Back to Events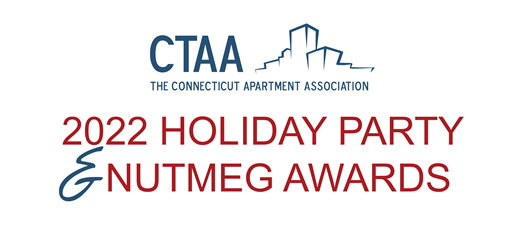 CTAA Event: 2022 Holiday Party & Nutmeg Awards
Join us as we celebrate the best of the best in multifamily housing!
Thursday, December 8, 2022
Event Details
2022 Annual Holiday Party & Nutmeg Awards
Celebrate the season and the accomplishments of your industry colleagues at CTAA's 2022 Annual Holiday Party & Nutmeg Awards!
Schedule
5:30 pm: Cocktail Hour
6:30 pm: Dinner
8:00 pm – 10:00 pm: Awards, Raffle Prizes & Dancing!
*Schedule subject to change
Location
Omni Hotel
155 Temple Street
New Haven, CT 06510-2622
United States
Reserve Your Room Today
CTAA special rate hotel rooms are available at a discounted rate of $169 per night.
Room rates expire on 11/8/2022
Registration
Ticket and table registration opening soon! 
2022 Nutmeg Awards
From Community of the Year to Leader of the Year and so much in between, there are many incredible teams and professionals to acknowledge and celebrate this year! 
 ** Nutmeg Award Nominations Opening Soon! **
Start collecting your submission assets for each nomination including write-up, photos, videos, reports, etc. Click here to see the submission requirements and critera for each award category.
Deadline to submit nominations: 10/25/22
2022 Nutmeg Award Submission Requirements & Criteria
2022 Award Categories
Tier 1: $50 per submission
Community of the Year (1 – 10 years)
Community of the Year (10 – 20 years)
Community of the Year (20+ years)
Best Curb Appeal (outdoor)
Affordable or Low-Income Property of the Year
Leasing Agent or Team of the Year
Maintenance Supervisor of the Year
Maintenance Technician of the Year
Maintenance Team of the Year
Property Manager of the Year
Assistant Property Manager of the Year
Office Professional of the Year
Tier 2: $75 per submission
Leader of the Year
Above and Beyond Award
Tier 3: $100 per submission
Management Company of the Year
Business Partner Company of the Year
 ** Nutmeg Award Nominations Opening Soon! **