National Apartment Association
Apatmentalize 2020 Rescheduled
We hope this finds you safe and well. We wanted to inform you of a recent decision concerning the National Apartment Association's (NAA) Apartmentalize, previously scheduled to be held in Boston, June 17-19, 2020. We have worked closely with the Massachusetts Convention Center Authority (MCCA) to monitor the situation in the hope we would still be able to safely convene the conference. The safety and well-being of our attendees and exhibitors are of utmost importance to us, and in light of the COVID-19 pandemic, we have made a difficult decision to cancel 2020 Apartmentalize in June in Boston.

As the saying goes, the show must go on, and we are elated that we are able to relocate this year's conference to a new city with new dates. NAA is happy to announce that Apartmentalize will now take place in Dallas, November 4-6, 2020 in conjunction with the Assembly of Delegates meeting. Event details will follow in the coming weeks, but rest assured we will continue to offer top-notch educational sessions, exciting keynote speakers and robust opportunities to network.
Click here for more information
---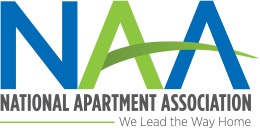 NAA Surpasses 10 Million Units!!!
Read about our industry's amazing achievement!
National Apartment Association (NAA), America's leading voice for the apartment housing industry, provides members with the most comprehensive range of strategic, educational, operational, networking, and advocacy resources they need to learn,
to lead and to succeed.

The CT Apartment Association (CTAA) is an approved Affiliate of NAA. Jessica Olander, CTAA Executive Director, serves on three NAA Committees; the National Membership Committee, National Marketing & Communications Committee and the Advocacy Task Force. This representation benefits CTAA Members by providing a voice for this area as well as sharing the latest updates with CTAA leadership.
___________________________________________________________________________________________________________________
Want to save time, money and your sanity?
Check out the Gold Standard

The NAA Click & Lease is a web-based leasing program offered exclusively to members of the National Apartment Association. This powerful and easy-to-use leasing program allows an apartment community to save time and money by speeding up preparation and
printing of legal documents.

___________________________________________________________________________________________

NAAEI
Build A Community - Build Your Career
with a NAAEI credential



Check out NAAEI's RPM Careers!