National Apartment Association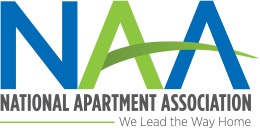 CTAA is an approved Affiliate of NAA. Jessica Olander, CTAA Executive Director serves on three NAA Committees; the National Membership Committee, National Marketing Committee and the Advocacy Task Force. This representation benefits CTAA Members by providing a voice for this area as well as sharing the latest updates with CTAA leadership.
National Apartment Association (NAA), America's leading voice for the apartment housing industry, provides members with the most comprehensive range of strategic, educational, operational, networking, and advocacy resources they need to learn, to lead and to succeed.
Furthermore, our mission is to enable every single one of our members to fulfill his or her professional goals with great competence, speed and the highest standard of ethics.

Check out NAAEI's RPM Careers!
We will continue to provide the best value of any professional organization by consistently offering the greatest tangible returns.