Back to Events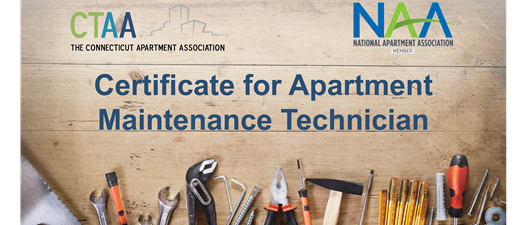 CAMT: Certificate for Apartment Maintenance Technician
Be a jack-of-all-trades and a master of maintenance!
Monday, January 23, 2023
to Friday, January 27, 2023
Event Details
We recommend this course for maintenance technicians, porters, housekeepers, and groundskeepers who are ready for advancement. Earning your CAMT boosts your knowledge and skills, your reputation, and your confidence.
You'll Learn About:
Processing work orders efficiently and to
residents' satisfaction
Electrical, plumbing, HVAC, mechanical,
appliance, construction, and lock and key
services and repairs
Painting services
Customer service
Following company policy and procedures
Minimizing personal and property damage
Maintenance safety
Fair housing regulatory compliance
Environmental responsibility and
regulatory compliance
Documenting and reporting maintenance
activities in compliance with company
policy and regulation
Curb appeal, property inspection, and daily
maintenance
Maintaining recreational facilities and
common areas
Implementing a preventive maintenance
schedule
Product repair and replacement decisions
Professional behavior, communication
skills, and personal appearance
For more information, visit www.naahq.org/CAMT or contact Elizabeth Zolotukhina at ezolotukhina@naahq.org.