NAA Urges Rent Payments Amid COVID-19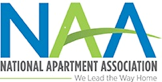 Dear NAA Members,

Today brings a lot of unknowns and uncertainty. Many residents won't be able to make their rent payments and, in turn, we realize the devastating implications this loss of income has for our members. As we move through April 1 and the coming days, the National Apartment Association (NAA) is urging all residents who are not financially affected by COVID-19 to pay their rent. Additionally, we have created guidance on rent collection amid COVID-19 with a webinar and best practices.

NAA continues to work through the federal legislation passed last month – promoting those elements that help housing providers and identifying deficiencies where more work is needed. We are fighting for much-needed relief measures in Washington, D.C., and will engage all members in an advocacy campaign soon. In the meantime, we urge our members to contact their state and local lawmakers to ensure that the apartment industry is considered in relief measures at every level of government. Please see this list of industry-supported state and local solutions that was adapted from our friends at the Chicagoland Apartment Association.

To address the most pressing concerns about rent strikes and rent regulation restrictions, we encourage you to consider sending the following messages to your elected officials:
Mayor, Councilmember, County Commissioner or Governor, we need your help to make clear that residents must pay their rent and otherwise comply with their leases. Mass non-payment will be devastating; it will impede our ability to pay property taxes, destroy the local economy and harm our efforts to keep people in their homes during this public health crisis.
We also ask that you reiterate: Renters should not be persuaded to adhere to calls for rent strikes.
 
Your local voice will resonate with lawmakers and can make a difference. The times ahead are tough and uncertain but know that we continue to fight for our industry's needs day in and out.
 
Please stay safe during these trying times.
 
Robert Pinnegar, CAE
President and CEO

National Apartment Association
4300 Wilson Blvd., Ste. 800, Arlington, VA 22203
rpinnegar@naahq.org | www.naahq.org
 
The National Apartment Association and its more than 150 state and local affiliates, encompassing over 82,000 members and representing more than 10 million apartment homes, encourage all residents who are in financial distress to proactively reach out to work with their community managers prior to April 1. Many of our rental housing professionals already have individual plans in place to work with their residents in this unprecedented crisis. There is no "one approach fits all." The best strategy, and NAA's recommendation, is for owners, managers and residents to partner together to find the optimal solution. Providing a secure home for all of our residents is our primary goal.